Core Facility
Welcome to the Department of Veterinary Medicine's Core Facility. For more information please contact:
Dr. Matthias Corrotte
Core Facility Director
Email: corrotte@umd.edu
Phone: 301-405-7677
Core Facility Inventory:  
Imaging Resources
LSM800 Confocal Microscope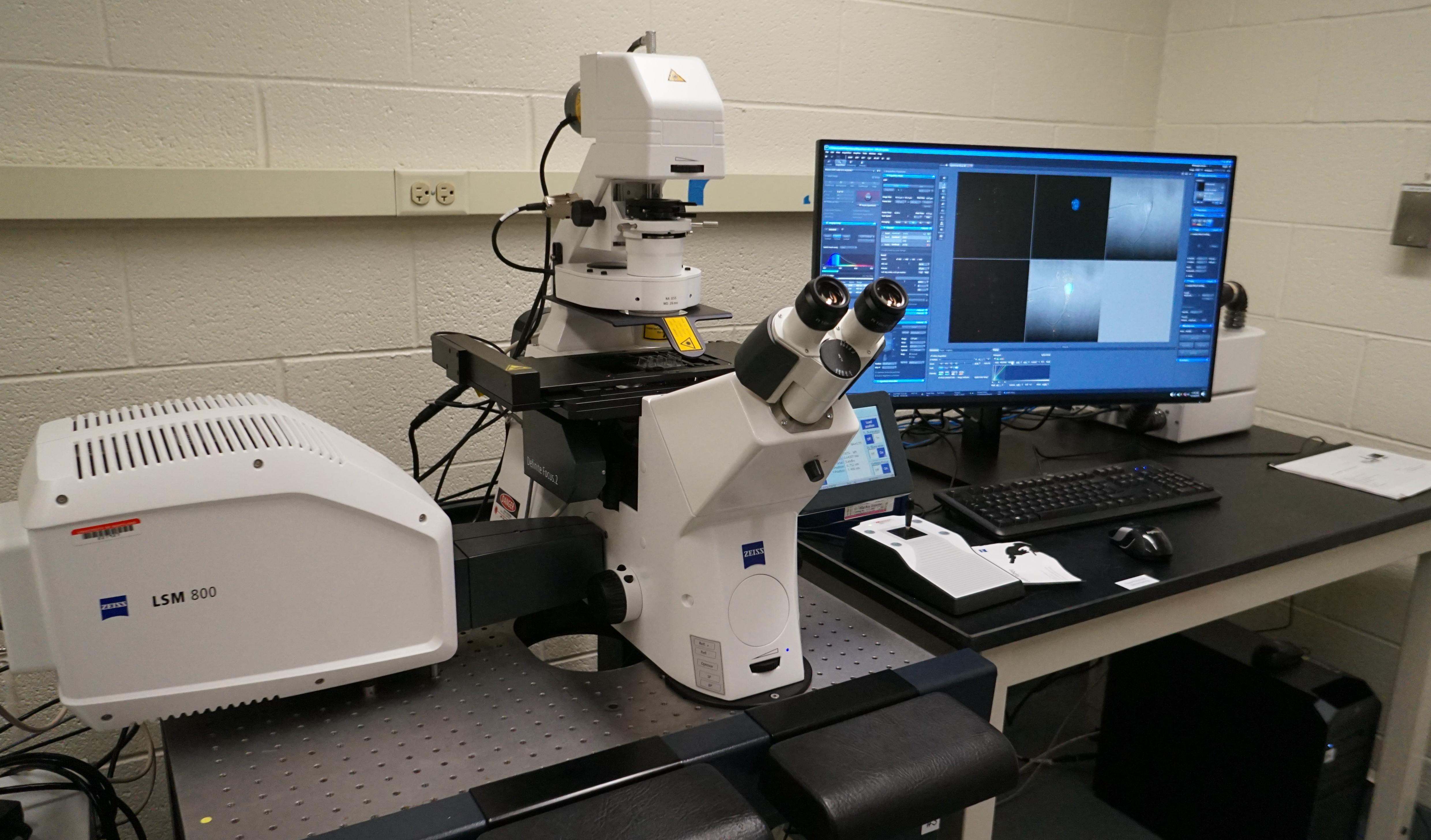 The Zeiss LSM800 Confocal microscope is well suited for imaging fixed samples, from tissue section to single cell or live samples (Using the stage add-on for heat and CO2).
Acquisition is set for up to 4 diverse fluorophores (405, 488, 561, 640 nm lasers) with two sensitive GaAsp detectors for fluorescence and one transmitted light PMT.
The confocal can be used for colocalization studies, z-stack/3D reconstruction, live imaging/time course, tile and stitching (for samples too large to fit in the field of view) as well as imaging multiple points during live imaging experiments, etc… 
The LSM 800 Confocal is available through online reservation on a dedicated Google calendar after completing a training session. Contact the Core Facility Director (corrotte@umd.edu) to receive training and join the online reservation calendar. 
Microscope Stand: Zeiss AxioObserver Inverted microscope with Definite focus (for live imaging applications) and motorized stage.
Objectives: 10x, 40x Water and 63x Oil are currently available on the microscope.
Colibri 7: LED light source with standard filters for DAPI, RFP, GFP and Cy5 for ocular sample location.
Laser Lines: 405nm, 488, 561, 640 with filter sets for DAPI, GFP, RFP and Cy5 fluorescence for confocal imaging.
Detectors: 2 GaAsP detectors. Gallium arsenide phosphide photomultiplier tubes (GaAsP PMTs) display high light collection efficiencies over a broad spectral range. Their low dark noise levels also make them the ideal tool for detecting faint signals in low expressing cells. The gain in signal-to-noise ratio (SNR) will increase productivity by achieving faster scan speeds while preserving high image quality. Low laser powers avoid photobleaching and phototoxicity in live cell imaging applications.
Definite Focus.2: This system enables  the  image  of  a  specimen  to  be  kept  focused  during  long-term  analysis  (lasting for some hours or days) of biomedical samples. This is achieved through elimination of temperature drift effects, in particular in time-lapse and multi-position experiments.
Software: Zeiss Zen Blue 2.6
Stage-top incubator: The stage-top incubator provides heating from ambient temperature, ie 22 degrees - 60 degrees Celsius with carbon dioxide regulation.The incubation system is controllable via the microscope's TFT interface. A number of stage inserts are available including Petri dish, 6 well plate, 12 well plate, 48 well plate and 96 well plate. A holder for chamber slides is also provided. There are objective heaters for the 40x/1.1 NA water immersion objective and the 63x/1.4 NA oil immersion objective. Objective heaters are not required for dry objective lenses. Multipoint imaging is possible during live imaging.
Observer Z1 Motorized Epifluorescence Microscope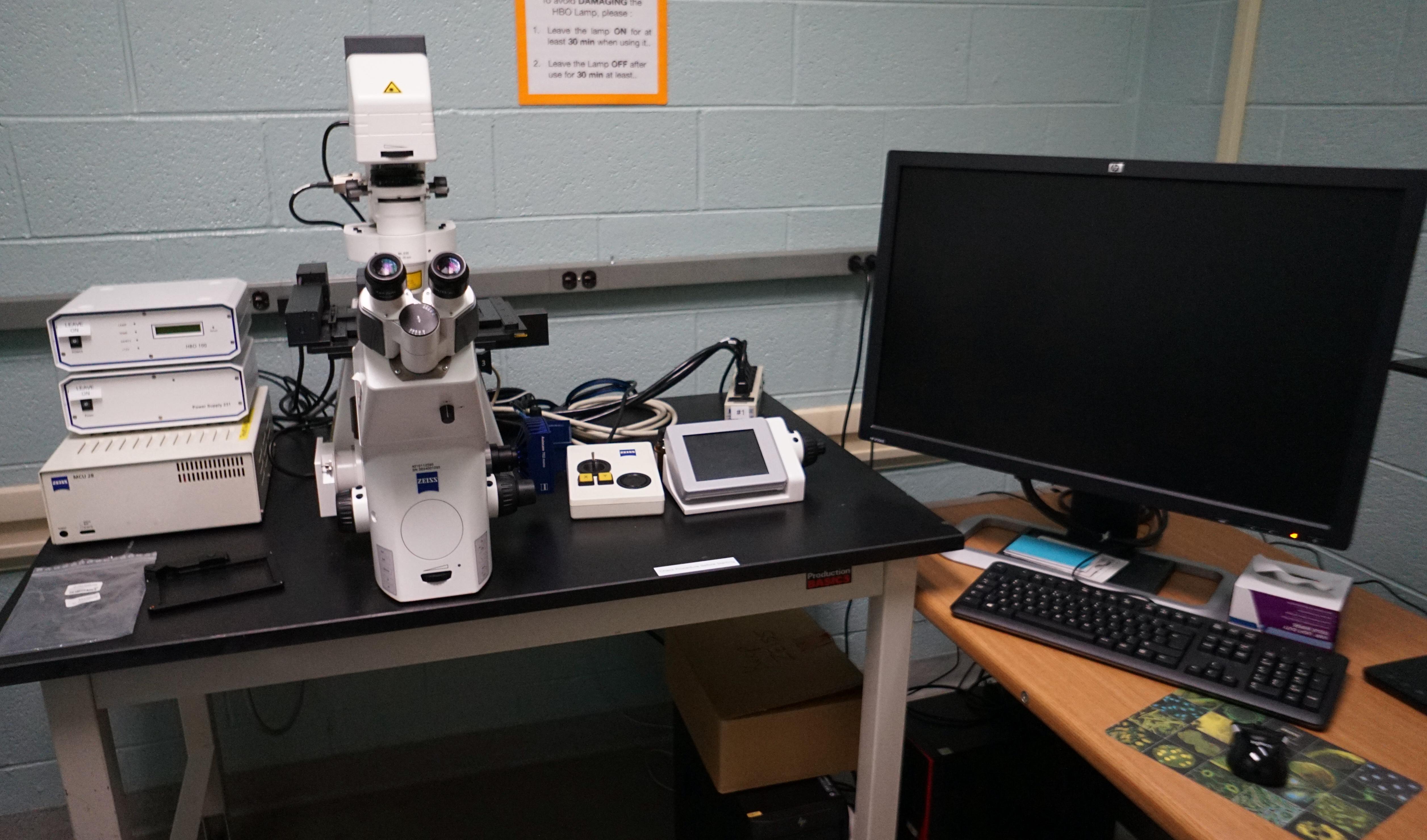 The Observer Z1 is a fully computer-controlled epifluorescence inverted microscope suitable for imaging fixed or live samples (at room temperature) on slides or plates. This microscope is a good option to take and retain images of your samples for quantification or comparison purposes between treatments or cell types. Because of its HBO light source, it less suitable as a way to check on your sample for fluorescent protein expression before an experiment (check out the Axiovert 200M for that purpose instead). 
The Z1 microscope is equipped with a motorized stage allowing for tiling (increasing your field of imaging as needed) or multiple point imaging. Z-stack and low-level deconvolution options are also available to improve image quality.
Light Source: is an HBO mercury bulb with standard filters for DAPI, RFP, GFP and Cy5. Important Note: The HBO bulb needs to stay on for at least 30 min and stay off between users at least 30 min to avoid damaging the bulb and decreasing its lifespan.
Objectives: 5x, 10x and 63x Oil/DIC are currently available on the microscope.
Software: The Z1 is equipped with ZEN blue for piloting the system and analyzing or processing data.
Axiovert 200M Epifluorescence Microscope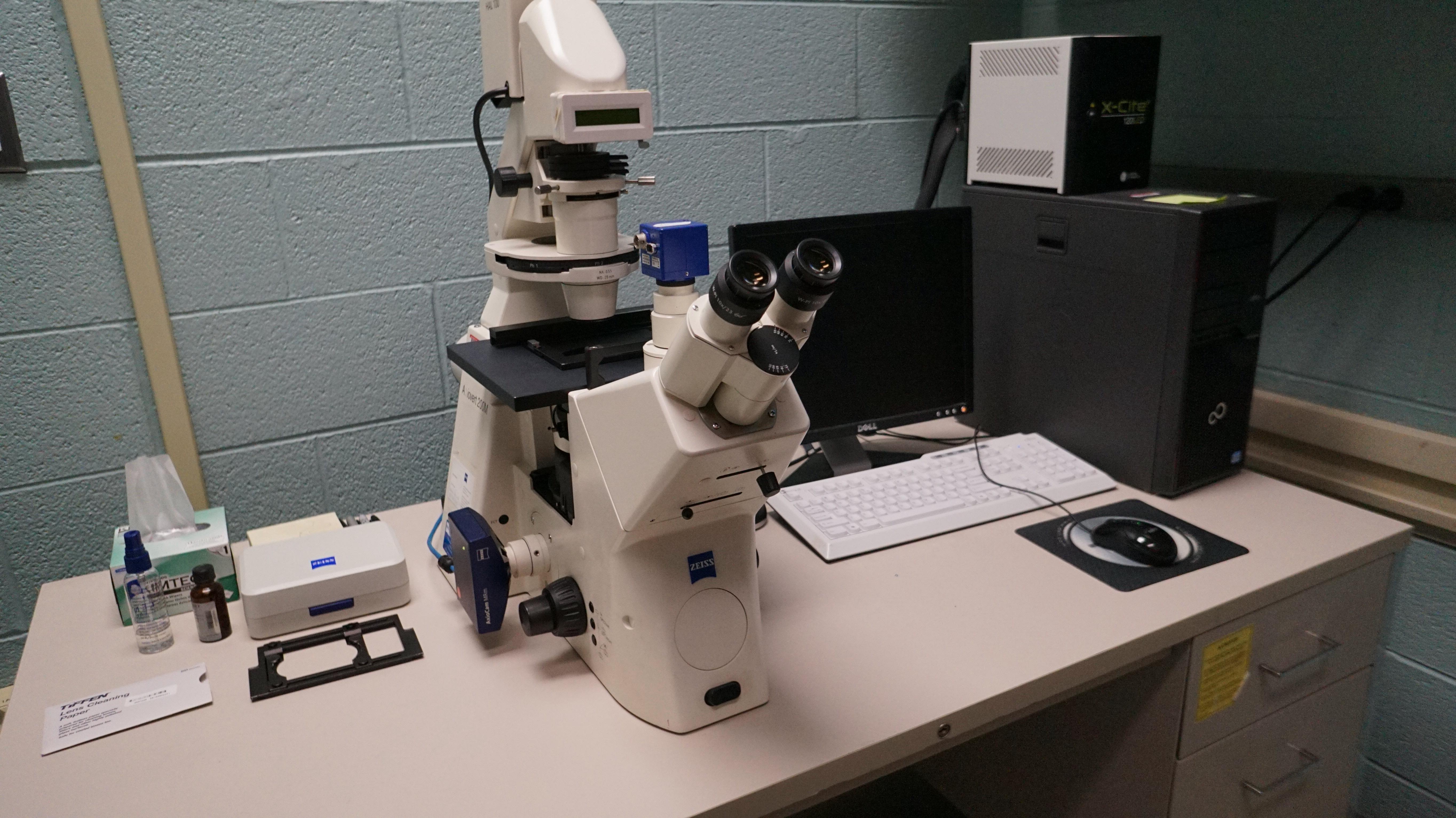 The Axiovert 200M is an inverted epifluorescence microscope suitable for imaging fixed or live samples (at room temperature) on slides or plates. This microscope is a good option to quickly verify fluorescence intensity or expression levels of fluorescent markers or proteins in your fixed or live samples before using them for an experiment. Because its LED light source can be turned on and off more quickly than the HBO on the Z1, it is more suitable for high and unpredictable traffic from a number of users.
The Axiovert microscope is equipped with a camera to quickly image your samples using the Axiovision software but does not have a motorized stage.
Light Source: LED light source with standard filters for DAPI, RFP, GFP.
Objectives: 20x (NA 0,3 Ph1), 20x (NA 0,8), 40x (NA 0,5 Ph2, LD A-Plan), 40x (NA 1,3 Oil) and 63x (NA 1,4 Oil/DIC) are currently available on the microscope.
The Axiolab A1 is a transmitted light microscope equipped with 5x, 10x and 63x objectives and a color camera to check and image your samples on a routine basis for cell culture, cell growth, etc…
IVIS Lumina XR In Vivo imaging System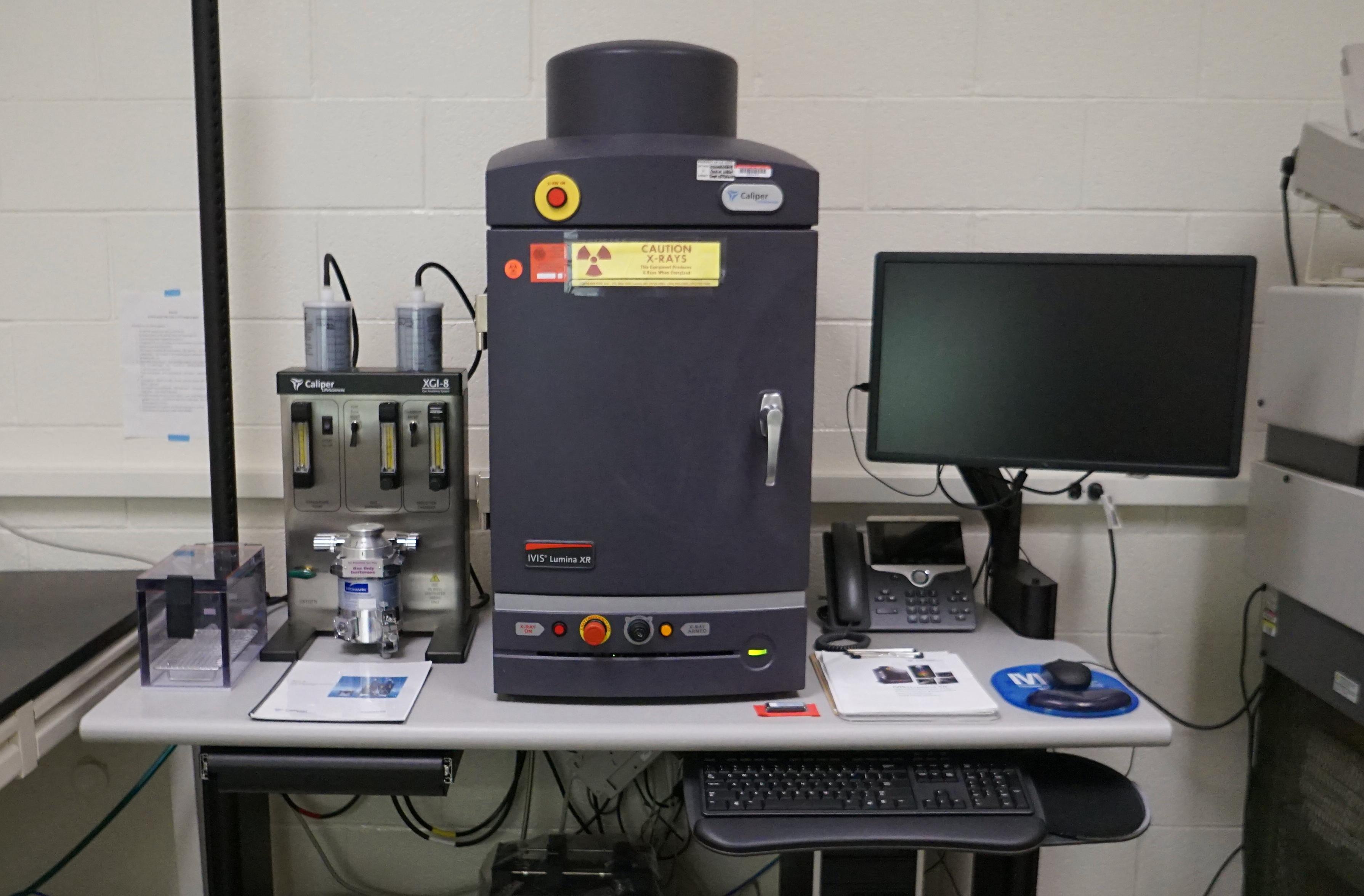 The IVIS Lumina XR is a Fluorescence, Bioluminescence and X-Ray Imaging, All-In-One, system for small animals or various culture dishes and plates. It is accompanied by the XGI-8 rodent anesthesia system and a syringe injection system for a wide array of animal in vivo imaging needs.
The IVIS Lumina XR can be used to study infectious diseases, inflammation studies, metabolic diseases, neurology, gene therapy, stem cell biology, cardiovascular disease, immunology, transplantation biology, drug metabolism studies and oncology research (follow tumor progression, monitor response to therapeutic treatments, metastasis, cell tracking, and tumor burden monitoring). 
The IVIS Lumina XR is equipped to image common fluorescent and bioluminescent reporters with a range of filter sets to image commonly used reporters. High resolution, sharp cut-off filters are interchangeable to achieve the highest performance, sensitivity and spectral un-mixing.
The IVIS Lumina XR also accommodates Petri dishes or micro-titer plates for in vitro imaging. It includes a heated stage to keep animals from becoming hypothermic during lengthy imaging procedures.
IVIS Lumina XR also comes equipped with X-ray. Precise optical and X-ray overlay allows you to bring your optical signal into anatomical context. Caliper Life Science's Living Image software automates all the controls and settings required for seamless image acquisition and processing. Typical X-ray image acquisitions take only 10 seconds and can be overlaid with both optical and photographic images. 
Our JOEL 1200 electron microscope is available to users who are working on analysis applications. The microscope includes a digital camera.
For more information on the Electron Microscope, visit:
Biochemistry Resources
Azure c500 Imaging System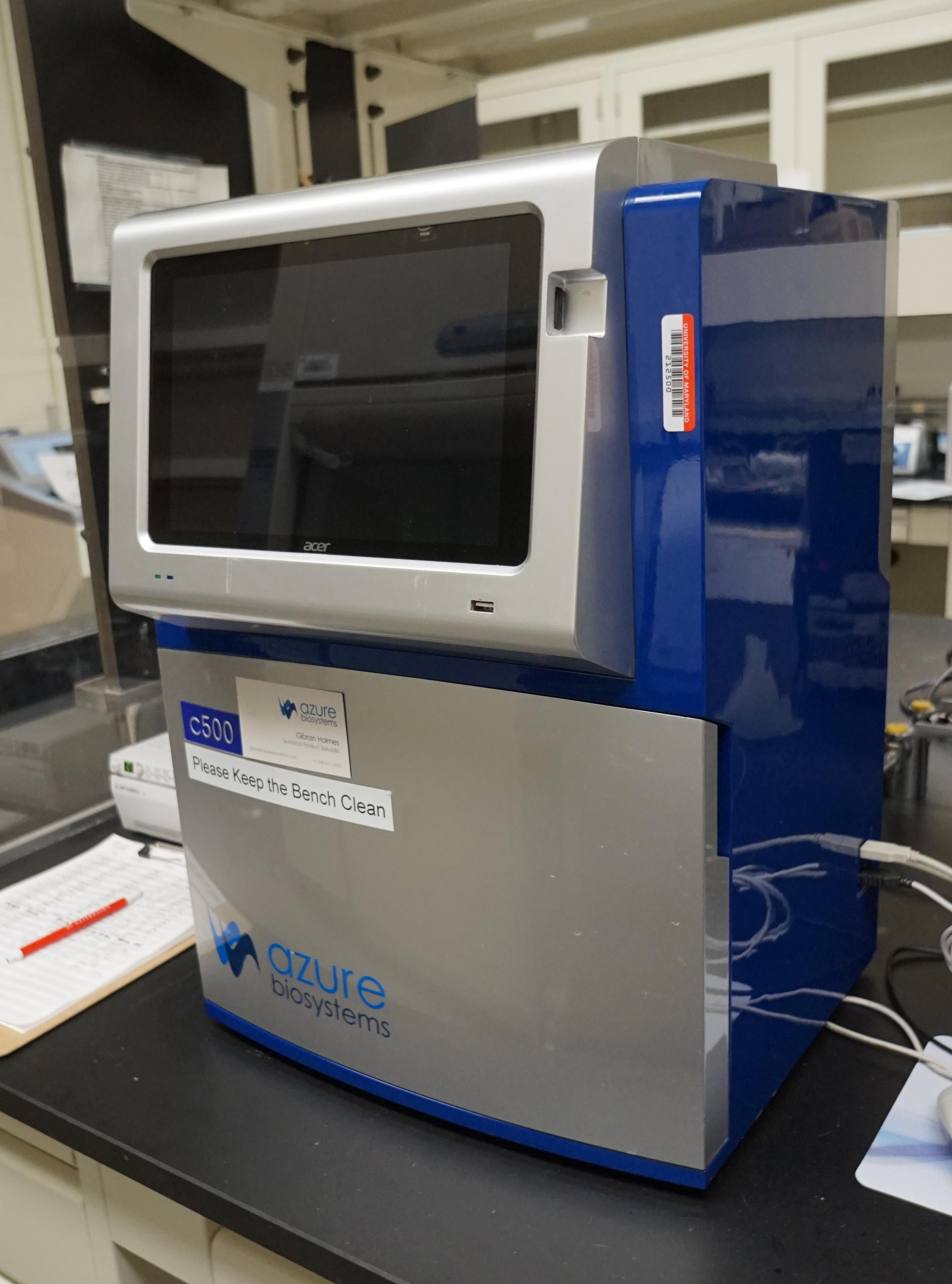 The c500 is designed to image DNA gels and Western Blots using both chemiluminescence or Near-InfraRed fluorescence (allowing for two-color imaging on the same blot). The system also comes with AzureSpot Analysis Software for quantitative analysis.
Lasers at 660 nm and 785 nm: With a narrower excitation band than LEDs or white light sources, you get NIR imaging with better sensitivity and lower background.
Epi blue LED at 470 nm: Image blue-excited DNA dyes like SYBR® Safe, a feature available on all cSeries models.
Epi White Lights: Uniform overhead illumination for white light imaging.
Trans White Imaging: Image visible/white light dyes, such as Coomassie Blue, in gels or other translucent samples.
Dual-Wavelength UV at 302 nm and 365 nm: Image DNA gels and more with a UV light source compatible with a wide range of dyes, including ethidium bromide, SYBR® green, SYBR gold, SYPRO® orange, fluorescein, RadiantRed®, TexasRed®, and SYPRO Red.
Touch-Screen Controls: Easily manage data acquisition and analysis with the touch of a finger, driven by Windows OS.
High-Resolution Camera: Capture fine details of your sample.
Deep Peltier Cooling: Experience excellent image quality and reduced noise with low-temperature camera cooling (-50°C).
Dual-Focus Technology: Get perfectly-focused images and optimal lane settings without having to touch the camera.
7-Position Filter Wheel: Perform a wide range of applications with a motorized, multi-position filter wheel.
Chem Blot Shelf: Get better sensitivity by placing chemiluminescent blots closer to the detector. The adjustable shelf can be stored in the door when not in use.
SpectraMax iD3 Plate Reader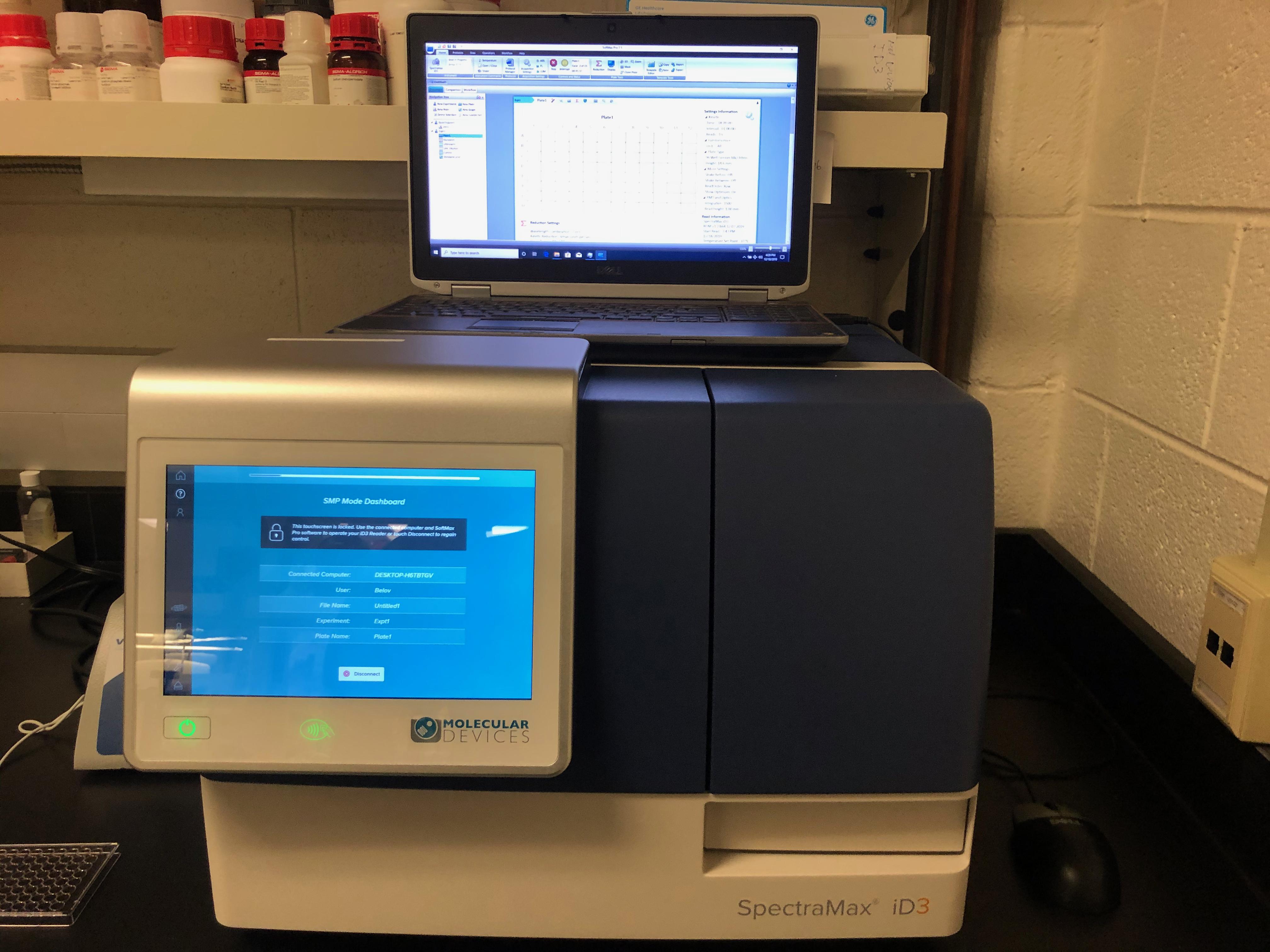 The SpectraMax iD3 is a multi-user microplate reader capable of measuring absorbance, fluorescence, and luminescence. Possible applications include cell viability assays, DNA/RNA quantitation, Reporter gene assays, etc.
Wavelength ranges :
Absorbance: 230 - 1000 nm

Fluorescence Excitation: 250 - 830 nm

Fluorescence Emission: 270 - 850 nm

Luminescence: 300 - 850 nm
Absorbance photometric accuracy/linearity: < ±0.010 OD ±1.0%, 0 - 3 OD VIS 0 - 3 OD UV
Absorbance photometric precision/repeatability: < ±0.003 OD ±1.0%, 0 - 3 OD VIS 0 - 3 OD UV
Sensitivity top read optimized: FL: 1 pM fluoresein 96 well, 1 pM fluorescein 384 well
Lumi: 2 pM ATP 96 well, 4 pM.
Light Source: High power xenon flash lamp
Detector(s): Silicon photodiode, Ultra-cooled photomultiplier tube
Read times (kinetic interval for 96-well plate)*: Abs: 28 seconds, FL: 21 seconds,Lumi: 21 seconds
Plate shaking: Linear, Orbital, Double orbital
Plate type(s): 6-384 well plates.
Microsphere beads, either polystyrene or paramagnetic, are color-coded into up to 500 distinct sets. Each bead set can be coated with a reagent specific to a particular bioassay, allowing the capture and detection of specific analytes from a sample. Inside the Luminex® analyzer, a light source excites the internal dyes that identify each microsphere particle, and also any reporter dye captured during the assay. Multiple readings are made on each bead set, which further validates the results. Using this process, xMAP® technology allows multiplexing of up to 500 unique bioassays within a single sample, both rapidly and precisely.
The MAGPIX Luminex system allows for multiplexing analysis of up to 50 analytes using Luminex® xMAP® technology with a wide range of research applications. Commercial kits and solutions for protein and RNA detection assays compatible with the MAGPIX system are available for various manufacturers.
ÄKTA Start Protein Purification System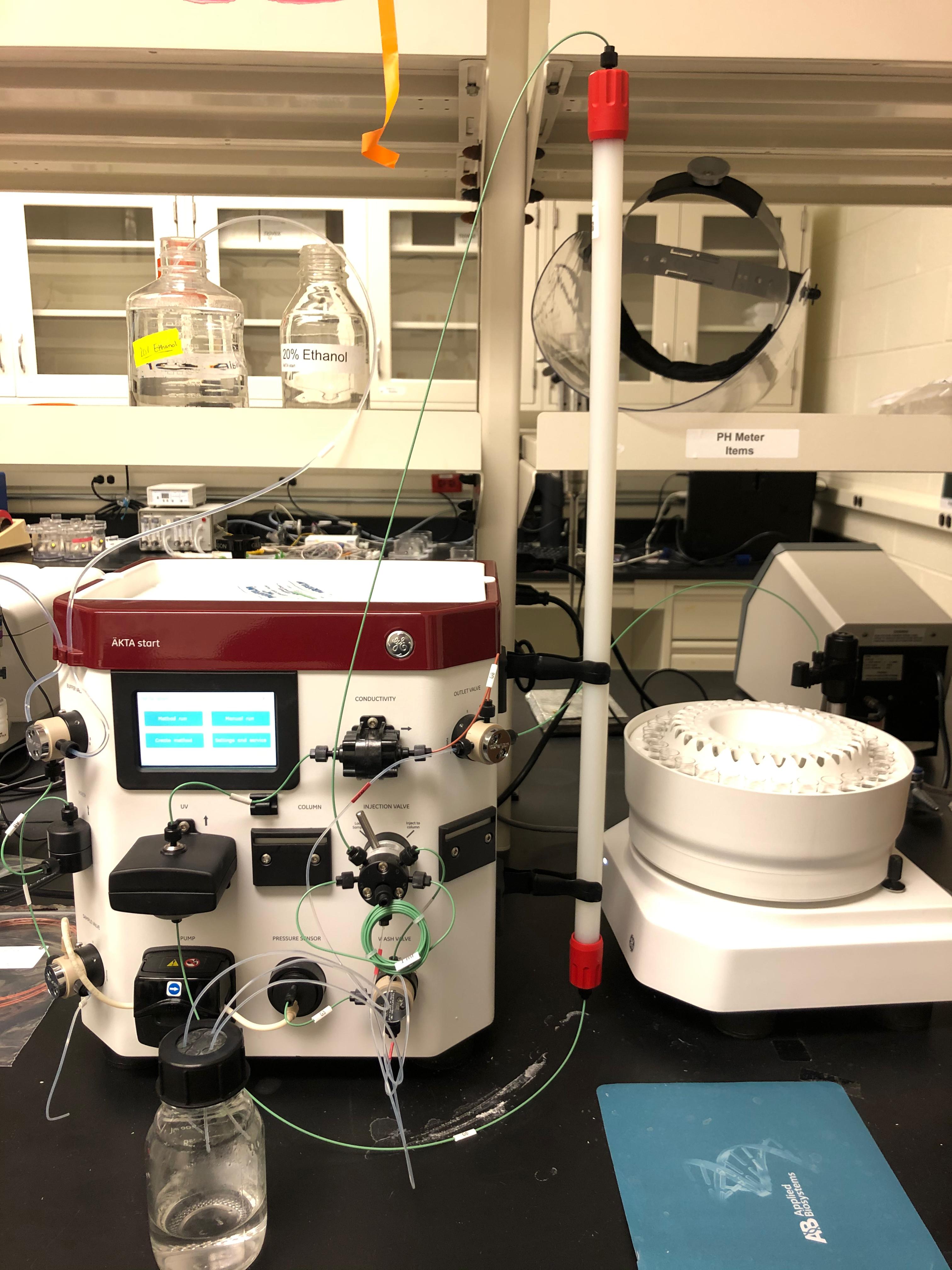 ÄKTA start is a preparative chromatography system for laboratory-scale protein purification. It is designed as a stand-alone system to purify a wide variety of proteins using built-in quick-start methods or predefined templates or by creating your methods.
Combined with the Frac30 fraction collector, it allows automated fraction collection in volumes from 0.5 to 15 mL. 
Flow Cytometry Resources
The Core Facility is equipped with a BD FACSAria cell sorter with 2 lasers lines (Blue and Red) capable of analyzing up to 7 colors and 9 parameters and we are working on adding a cell analyzer with 3 lasers lines (Violet, Blue, and Red) for improved sample analysis, speed, and ease of use (coming soon…). Contact the facility director to discuss your needs and availability.
Flow Cytometry rates apply to all trained, eligible users. Rates are adjusted each year.
Users within the Department of VetMed: $20.00/hour (Analysis); $25.00/hour (Sorting)
On-campus users not affiliated with the department: $20.00/hour (Analysis); $25.00/hour (Sorting)
Users not affiliated with the campus: $40.00/hour (Analysis); $50.00/hour (Sorting)
Applications range from cell cycle analysis, apoptosis, fluorescent protein expression levels, immunophenotyping, etc… to sorting up to 4 different viable cell sub-populations based on expression patterns using fluorescent dyes or proteins.
The Core Facility's FACS Aria II is a cell sorter allowing analysis and sorting of samples with up to 7 colors/ 9 parameters into tubes or multi-well plates.
The blue laser (488 nm) module provides up to 5 detectors and filter sets for a number of common fluorophores (FITC, GFP, Alexa Fluor 488, PE, PE-Texas Red, DSRedPerCP, PerCP-Cy5, PE-Cy7, PI, 7AAD). Filter sets include (in order of detection) : LP735 + 780/60, LP655 +695/40, LP610 + 616/23, LP556 + 585/42, LP502 + 530/30.
The red laser (633 nm) module provide 2 additional detectors and filter sets (Common fluorophores are APC, APC-Cy7, Cy5, Alexa Fluor 647). Filter sets include (in order of detection) : LP735 + 780/60, 660/20.
4 Nozzle sizes allow for a range of cell types and sizes to optimize cell sorting and survival for culture:
70 mm : max flow rate of 22,000 cells/second at 70 PSI of operating pressure. Sample concentration should be between 20-40x106 cells/ml.

85 mm : max flow rate of 15,000 cells/second at 45 PSI of operating pressure. Sample concentration should be between 10-20x106 cells/ml.

100 mm : max flow rate of 7,500 cells/second at 20 PSI of operating pressure. Sample concentration should be between 5-10x106 cells/ml.

130 mm : max flow rate of 3,000 cells/second at 10 PSI of operating pressure. Sample concentration should be between 20-40x106 cells/ml.
Samples for the FACSAria must be pre-filtered through ≤70 µm cell strainers prior to being loaded onto the instrument. BD Falcon tubes with filters (cat#352235) or 40 µm cell strainers (Cat# 352340) are proper options to filter your samples.
Samples should come in 12x75 flow cytometry tubes to avoid unnecessary pipetting and biohazardous transfers before loading samples into the sorter.
Samples for sorting are generally prepared in PBS+1% FBS unless otherwise necessary.
For sorted cells, collection tubes (12x75) should contain about 1ml of media complemented with serum and antibiotics as in your usual culture to help maintain cell viability and sterility.
If you are planning on performing analysis only, samples can be fixed in 2-4 % paraformaldehyde and run the following day, if it's more practical.
Proper controls are necessary for a correct sort or cell analysis. Proper sample controls for setup and compensation are as follow :
Unstained cells only control

Isotype controls

Compensation controls of single-color stained cells for each dye in your experiment. Beads stained with the same dyes as your cells are also acceptable but are not suitable for cells expressing fluorescent proteins as those have different emission spectra from similar commercial dyes (GFP is actually different from FITC…). This is necessary for multi-color experiments to subtract (compensate) the non-specific overlapping part of the dye's emission spectra.
Genomics Resources
The genomics analyzer provides users access to automated nucleic acid sequencing and analysis instrumentation. An Applied Biosystems 3130 DNA Analyzer is equipped with a 4-capillary array. The genetics analyzer can run a wide variety of sequencing and fragment analysis applications. The system offers industry-leading performance, as well as sophisticated automation capabilities to save time, reduce costs, and increase productivity.
Genomics Core rates apply to all trained, eligible users. Rates are adjusted each year.
Users within the Department of VetMed: $10.00/run
On-campus users not affiliated with the department: N/A
Users not affiliated with the campus: N/A
For information and resources on Genomics, visit:
Rates
Imaging core rates apply to all trained, eligible users and is current for the academic year.  The rates are adjusted each year.
                Users within the Department of VetMed $10.50 per hour
                On-campus users not affiliated with the department $16.00 per hour
                Users not affiliated with the campus $32.00 per hour